Snijplotters + Snijplotter Software
E-mail prayer
Room of Possibilities
Tijdzones
Wanted Bunnies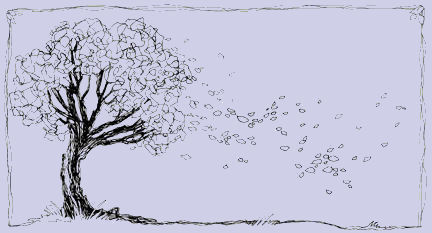 Als we te maken krijgen met een afscheid is dat meestal niet zo'n moment om eens een kaart te gaan maken.
Toch kan een mooie kaart met een passende tekst troost bieden aan nabestaanden.
Het is daarom handig om 3 Š 4 kaarten te hebben liggen voor het geval dat zich een sterfgeval voordoet in je omgeving.
Zorg dat je dan kaarten maakt met verschillende teksten om de verschillende relaties te belichten.
Teksten voor op rouwkaarten hebben we meestal niet te veel in de kast liggen.
Maar ze zijn natuurlijk ook te printen, met een eigen lettertype in een eigen setting met behulp van Word of een tekenprogramma.
En we kunnen ze ook gebruiken als inspiratie om een kaart te maken.
Deze stempels zijn verkrijgbaar bij VERSES RUBBER STAMPS
jammer genoeg alleen mounted verkrijgbaar...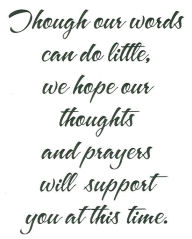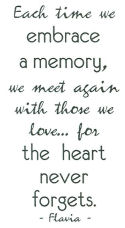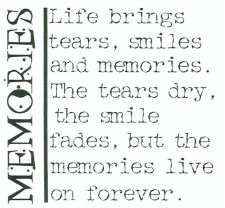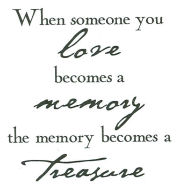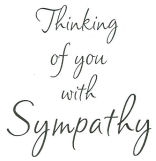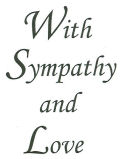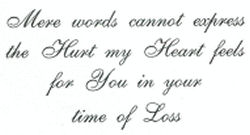 Teksten van onyxxpressions: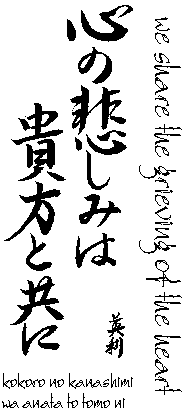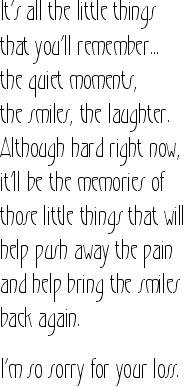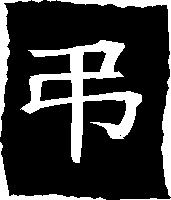 = gecondoleerd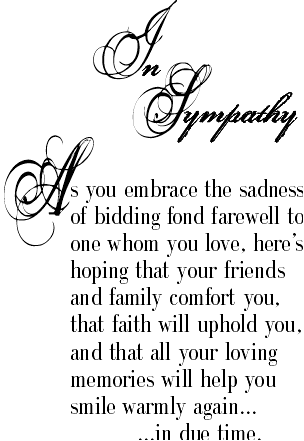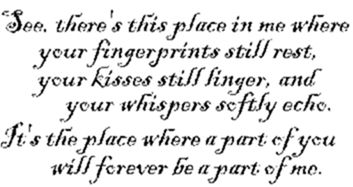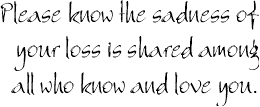 Teksten van designs ink'd: (dit merk is niet meer)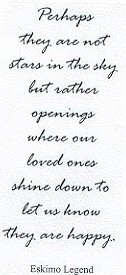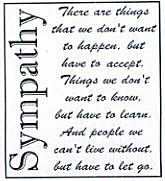 Teksten van wordsworth: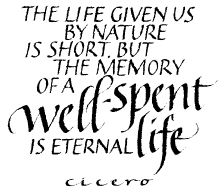 Teksten van onbekende merken: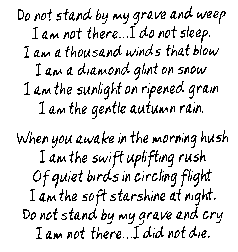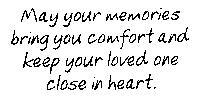 Life is pleasant. Death is peaceful.

It's the transition that's troublesome.
--Isaac Asimov--

Death ends a life, not a relationship.
--Jack Lemmon--

One should die proudly when it is no longer possible to live proudly.
--Unknown--

Each departed friend is a magnet that attracts us to the next world.
--Jean Paul Richter--

They are not gone who live in the hearts of others.
--Native American Proverb--

Blessed are they that mourn,

for they shall be comforted.
--Matthew 5:4--

Heaven knows we need never be ashamed of our tears, for they are rain upon the blinding dust of earth, overlying our hard hearts.

--Charles Dickens--

Tearless grief bleeds inwardly.

--Christian Nevell Bovee--

To weep is to make less the depth of grief.

--William Shakespeare--

Good night, good-night, Parting is such sweet sorrow.

--William Shakespeare, 1564-1616--

Tears are the safety valve of the heart when too much pressure is laid on it.

--Albert Smith--

Tears are the silent language of grief.

--Voltaire--

All who go.......Go to soon.

--unknown--

Not gone....just gone ahead.

--unknown--

There is no pain so great as the memory of joy in present grief.

--Aeschylus--

The pain passes, but the beauty remains.

--Pierre Auguste Renoir--

Suffering and joy teach us, if we allow them, how to make the leap of empathy, which transports us into the soul and heart of another person. ln those transparent moments we know other people's joys and sorrows, and we care about their concerns as if they were our own

--Fritz Williams--

We are healed of a suffering only by expressing it to the full.

--Marcel Proust--

Where there is love, there is pain.

--Spanish proverb--

every step i take
every move i make
every single day
every time i pray
i'll be missing you
thinking of the day
when you went away
What a life to take
what a bond to break
i'll be missing you

--lyric by puff daddy Ft Faith Evens--

With the death of every friend I love...
a part of me has been buried... but their
contribution to my being of happiness,
strength, and understanding remains to
sustain me in my altered world.

--Helen Keller--

Tell me not, in mournful numbers,
Life is but an empty dream!
For the soul is dead that slumbers,
and things are not what they seem.
Life is real! Life is earnest!
And the grave is not its goal;
Dust thou art; to dust returnest,
Was not spoken of the soul.

--Henry Wadsworth Longfellow--
One Silent Tear.

In the shadows of the night, one silent tear escapes,
It glistens in the moonlight, as it falls upon her face.

It is a tear of mourning, of sadness and of pain,
Of knowing she will never, see his face again.

As it falls softly, it pauses on her cheek,
She looks into her soul, strength is what she seeks.

The courage to meet another day, to face the hours alone,
To feel his presence echo, in the rooms of this empty home.

The tear resumes it's journey as it travels down her face,
It passes lines of beauty, of wisdom and of grace.

Her eyes fall upon the portraits, along the shadowed hall,
The faces of their family, that hang upon the wall.

In their smiles she sees him, his laughter in their eyes,
He has left a legacy, for in their hearts he lies.

He is gone from this earth, but not from her heart,
United in love, they are never far apart.

And she smiles softly knowing, she has nothing to fear,
And her hand gently wipes away, that One Silent Tear.
Nederlandstalige teksten

gedeeld door marjolijn

De vogels fluiten gewoon door
En ik, ik snap het allemaal wel
Mijn verstand zegt: het is goed zo
Maar wat ik voel is anders,
Om wat er was en nooit meer terug komt ÖÖÖ

gedeeld door marjolijn

Het zijn vaak de kleine dingen
Die in je herinnering blijven.
De gelukkige momenten samen,
Een glimlach, een bepaald gebaar.
Hoe zwaar het nu ook is,
Op den duur zullen deze dingen
Het verdriet verzachten.

gedeeld door marjolijn

Een herinnering in liefde, is een herinnering voor altijd

gedeeld door marjolijn

Wanneer je verdrietig bent,
Blik dan opnieuw in je hart
En je zult zien dat je weent
Om wat je vreugde schonk.

gedeeld door els

Er zijn geen woorden voor een zieke,

van wie je weet hij redt het niet.

Je streelt zijn wang,

je ziet zijn ogen,

je bent bevangen door verdriet.

Toch ben je dankbaar voor zijn einde,

dat na zoveel moedig strijden kwam,

omdat het niet alleen zijn leven,

maar ook zijn lijden overnam.

gedeeld door fa088381

Woorden zijn nietig bij groot verdriet.

Moge de herinnering

aan vele mooie en gelukkige momenten
u helpen en een steun zijn in moeilijke dagen.
Zo kan verdriet en pijn plaats maken voor dankbaarheid.
Diep meevoelend.
Heb je mooie teksten voor op rouwkaarten die hier niet bijstaan, mail me dan AUB voor een eventuele aanvulling van deze blz.